Texas Woman Brutally Beaten By Police After Falling Asleep In Passenger Seat Of Friend's Car
A young woman has reportedly been brutalized by police in Killeen, Texas.
Leah Dure says she fell asleep in a friend's car on New Year's Eve. This is when she claims authorities dragged her out of the passenger seat and accused her of driving under the influence.
They allegedly beat her so severely it caused one of her eyes to close shut.
According to Leah's attorney Lee Merritt, she had attended a New Year's Eve party with her boyfriend.
Both had drank a small amount to toast the New Year. But during the festivities her boyfriend's eye became injured. Leah rode with him to a local emergency room and fell asleep in the car while he went inside for treatment.
Merritt alleges that Leah woke up to a white male officer (she identified as Officer Wood) dragging her from the car.
He then "banged her face into the concrete while accusing her of DUI".
"She was taken to jail and was further physically assaulted by the officer she identified by his badge as Officer Wood. She tried to explain she was not driving, she doesn't know how to drive, this was not her car," Merritt said.
"Leah was not charged with DUI. She was instead mis-charged with public intoxication in a bizarre attempt to justify her unlawful arrest."
Merritt has called for the officer in question to be terminated and charged with a crime. Leah's older sister, Brittany Johnson has also called for charges to be filed.
She wrote in an Instagram post: "Leah, who has no priors and has never been in trouble with the police, does not know how to drive nor does she have a drivers license."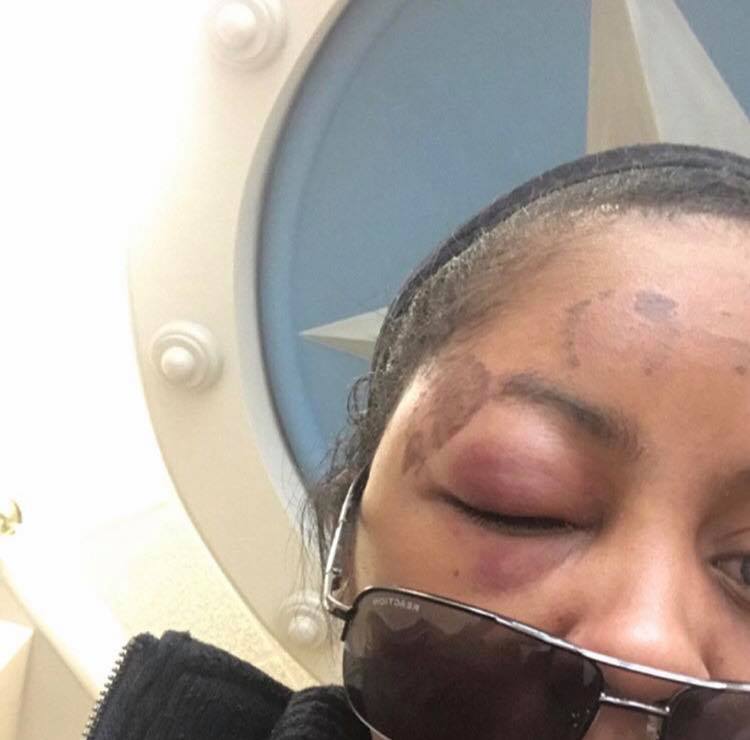 "There would be no reason for her to be behind the wheel of a car, with that being said what would be the reason for the police officers to use excessive force like they did."
https://www.instagram.com/p/BdjLmF3BfgR/
"Her eye is completely shut, she has bruises all over her body, and is now not able to work because of the way that she looks. All of this happened in Killeen, Tx. My little sister did not deserve this, she is the most loving and caring person that I know."
"Please help us get justice for my little sister!!!"